About Saffron Furnitures


&nbsp Our Profile
Saffron furniture and Interiors. Is a customer–driven Furniture showroom with a reputation for innovation, quality, speed and flexibility backed by 15 years old experience and vision of its partners. Our business is spread across north Karnataka.
Saffron Is an exceptional diversified showroom dealing in Readymade furniture for home and office, and interior solutions for your home and office need such as Upholstery Etc. We believe our expertise and experience will make your Home and Office a beautiful place to live and work in .Saffron has a team of professionally skilled workforce that ensures the highest standards of quality and timely schedules to fulfill the need of its clientele, Efforts are always on to identify new markets, varying customer/ country requirements, understand their social & cultural patterns, develop and design new products to suit their specific requirements. With these guiding principles Saffron is poised for an exciting journey in its new venture.

&nbsp Our Mission
Our Mission is to aim for excellence in every field we trade in with our customer satisfaction.

&nbsp Our Vision
Our Vision is to achieve distinctive place in Furniture's & Interior Products. As a budding company with experienced staff.

&nbsp Our Presence
We believe we have already given you enough reasons to hire us. It is not just about the quality of service and the design we deliver to you at the end of the day, but also the experience that we both will cherish. We are fun to work with. We understand that getting your home ready to occupy is your highest priority and is usually a cause for your tension. We make sure that you don't feel that way at all.

At saffron- north Karnataka's biggest furniture store. Magic touches us, elates us…enough, to want to bring it straight into your home. And so, we have put together an intriguing collection of furnishings - classic, contemporary and chic. for homes, for offices, for hotels.
So here's presenting, A fashionable selection of furnishings vouched for, by industry-leading interior designers and discerning home makers at amazingly affordable prices. Come and experience saffron magic over a whopping 36000sqft.

&nbsp What do we do?
We even design elegant and aesthetic interiors & exteriors for residential, official & commercial buildings. The idea is not just to make sure that jaws drop when you invite your friends over at your home or office, but our constant endeavour is to deliver to you a concept, a space that will become a permanent source of positive energy and enthusiasm.
We ensure that when every morning you wake up.It convinces you to stay at home one more minute, and when you're away from home, it makes you want to come back. That's what we do.

&nbsp What motivates us?
This is our passion. We love designing beautiful homes that would be remembered forever. We love doing this over and over again.
STYLISH DESIGNS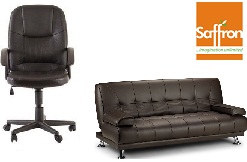 View Products
SUPERIOR QUALITY
View Products
MORE COLLECTION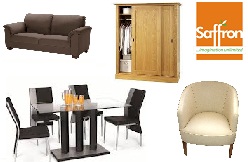 View Products
AFFORDABLE PRICE

Beautiful design & a quality as usually followed by a hefty price tag.
But this needn't be the way...!
We are committed to bring you both at affordable price.